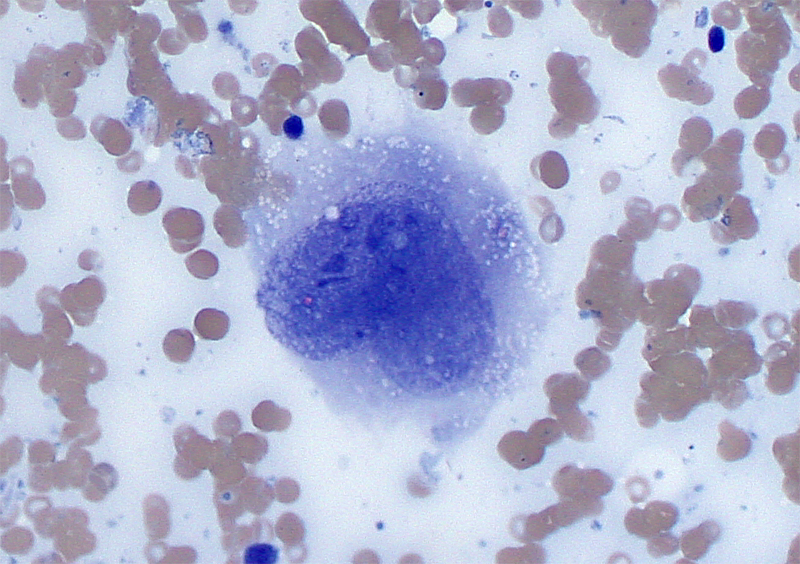 DOG, 7 y, male, histiocytic sarcoma
mod. Romanowsky, 100x oil
Anisocytosis = difference in cell size
Polymorphism = difference in cell morphology
Decreased cell-to-cell adhesion (epithelial cells)
Changes in the degree of cellular differentiation
NUCLEUS
Shape
Polymorphism?
Irregular?
Size
Macrokaryosis?
Anisokaryosis?
Number
Multinucleation?
Odd numbers of nucelii?
Intracellular anisokaryosis?
Micronuclei?
Fine, open or coarse?
NUCLEOLI
Prominent?
Size:
> 2/3 size of a RBC?
Variable size within same nucleus?
Shape – irregular?
Number - >5?
MITOTIC FIGURES
Number – (in 5 high power fields or 10 low power 40 x magnification fields)
Abnormal ?
NUCLEAR TO CYTOPLASMIC RATIO
Increased?
Variable?
CYTOPLASM
Amount?
Colour  - Hyperbasophilic?
Inclusions or vacuoles?
Emperipolesis / cannibalism
Criteria of malignancy within the NUCELOLI are more important than those of the NUCLEI, which in turn are more important than those of the CYTOPLASM.